Electric sliding windows
Yacht Automation
Noval provides electric sliding windows solutions. 
---
GENERAL DESCRIPTION
This range of electric windows can be adapted in its dimensions and forms, for an optimal fit in wide variety of boats, based on your specific requirements.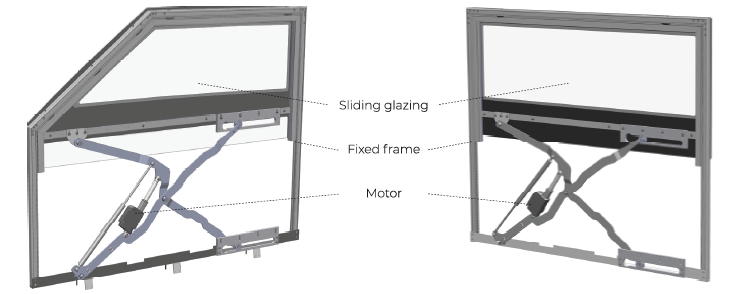 ---
FEATURES
Glazed safety glass on a sliding aluminium frame. 
Fixed aluminium frame
100mm cylinder travel
500mm pane travel
Two end-of-stroke sensors integrated in the cylinder to automatically stop the movement when the glazing reaches its limit positions
The duration of movement for full travel is approximately 15 to 18s.
Cylinder protection index: IP66
Cylinder tested at 500h in salt spray
Screen printed glass according to your CDC (gradient optional).
Power source: 12V DC (24V DC optional).